Full range of PCB manufacturing and assembly services to fit all your printed circuit board capability needs.
Victory has introduced world-class PCB production equipment and high-precision testing equipment. We adopted a scientific management model to form a strong and leading process manufacturing capability.
Advanced Manufacturing Equipment
Fully Auto Solder Mask Line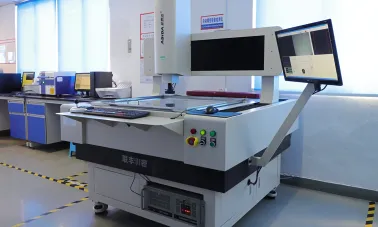 Two-Dimensional Measuring Machine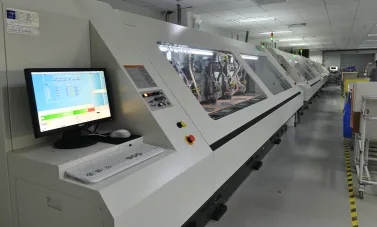 200,000/min speed Drilling Machine
All are available in our processing. Victory can design and process special processes such as controlled depth milling, half hole, mixed pressure and so on.
Items
Manufacturing Capabilities
Material
CEM-3,FR-4(Normal to High Tg), High CTI FR-4, Polyimide(PI), Aluminum Base, Rogers
Surface finish
HAL, HASL Leadfree, ENIG,Chem Tin, OSP,Gold Finger, Immersion Silver
Min.Core thickness
2.36mil/0.06mm
Prepreg type
1080, 2116, 7628, 106, 3313, 2165, 1500.
Max board size
22.8X47.2inch/580X1200mm
Copper thickness
Min. base copper 1/4Oz
Max. base copper 10Oz
Min.board thickness
2- Layer 0.2mm/8mil
4-Layer 0.35mm/14mil
6-layer 0.60mm/24mil
8-Layer 0.8mm/32mil
10-Layer 1.0mm/40mil
12-Layer 1.2mm/47mil
14-Layer 1.4mm/55mil
16-Layer 1.6mm/63mil
Min.line width/space
3/3mil inner and outer tracks
Min hole size
4mil/0.1mm
PTH wall thickness
≧25µm
Type of Blind and buried vias
II, III, IV, V, VI......
Min. blind/buried vias
0.1mm/4mil
Min.space between vias and tracks
0.2mm/8mil
Min. space between BGA to tracks
0.076mm/3mil
Min. Solder mask bridge
0.1mm/4mil
Min. BGA
0.2mm
Max.board thickness
6.0mm/236mil
Max. aspect ratio
12:01:00
AOI (Automatic Optical Inspection)
Max.table size: 685X685mm
Max.inspect size: 620X620mm
Max. thickness: 3.20mm(126mil)
Min. thickness: 0.06mm(2.36mil)-core
Min. width/gap: 3mil/3mil
Design & Test
3mil track width, 3mil tracks width/gap, IPC class 2/IPC class 3,Flying probe/tooling test, Differential impedance, TDR testing, Automatic optical inspection
Board thickness Tolerance
±0.10mm(4/6layers)
±0.13mm(8/10layers)
±0.15mm(12/14/16layers)
PTH dia. Tolerance
±0.075mm/3mil(Standard), ±0.05mm/2mil(Advanced)
NPTH dia. Tolerance
±0.05mm/2mil(On laminate area)
±0.03mm(On ground area)
Hole location Tolerance
±0.075(Standard) ±0.05mm(Advanced)
±0.13(2nd drilled hole to 1st drilled hole location (mm))
Slot size tolerance
±0.075mm(board thickness≤1.0mm)
±0.10mm(board thickness>1.00mm)
V-CUT Remain thickness tolerance
±0.10mm(Standard), ±0.076mm(Advanced)
Peelable mask Thickness
≥8mil(0.2mm)
Insulation Resistance
>1012Ω
Through hole Resistance
<300Ω
Current breakdown
10A
Peel Strength
1.4N/mm
S/M Abrasion
>6H
Thermal stress
288℃ 20Sec
Test Voltage
20-300V
Impedance control
(50Ω-100Ω)±10%(Standard)、 (50Ω-100Ω)±7%(Advanced)
| | | | | |
| --- | --- | --- | --- | --- |
| | 1m² | 1m²≤S≤3m² | 3m²≤S≤5m² | Fast |
| 2L | 4day | 6day | 7day | 1day |
| 4L | 6day | 7day | 8day | 2day |
| 8L | 6day | 7day | 9day | 2day |
| 10L | 9day | 10day | 13day | 5day |